Finally, iPhone 7 and iPhone 7 Plus are coming out but how well do you know these new iPhones and is it worth to pay for a new iPhone if you already have iPhone 6? I am sure you already heard that new iPhones are waterproof but that isn't the only major change about new iPhones.
1. Screen
iPhone 7 and iPhone 7 Plus have the brightest and most colorful retina HD iPhone screens Apple has ever made. For better understanding;
iPhone 7 – 4.7-inch LED-backlit IPS LCD, 1334 x 750 pixels (326 ppi), 65.6% screen-to-body ratio
iPhone 7 Plus – 5.5-inch LED-backlit IPS LCD, 1920 x 1080 pixels (401 ppi), 67.7% screen-to-body ratio
These number may seem a little cryptic but in short, it means they have reached "cinema standards" and you can see characters and background livelier if you ever decide to watch movies with your iPhone.
2. Camera
New cameras of the iPhone 7 and iPhone 7 Plus are able to shot high-quality videos and photos even at nights. Camera quality has never been the first priority for Apple while some other brands were focusing on that but this time, Apple seem to change that.
iPhone 7 – Rear: 12MP sensor, f/1.8 aperture, Focus Pixels, Optical Image Stabilization, quad-LED (dual tone) flash, 4K video recording. Front: 7MP sensor, f/2.2 aperture, 1080p recording
iPhone 7 Plus – Rear: Dual 12MP sensors (f/1.8, 28mm & f/2.8, 56mm), Focus Pixels, OIS, 2x optical zoom, quad-LED (dual tone) flash, 4K video recording. Front: 7MP sensor, f/2.2 aperture, 1080p recording
iPhone 7 Plus have 2 cameras with different functions, one of them is the same camera that iPhone 7 has and the second one has a telephoto lens which enables to capture high-quality images even while zooming.
3. Battery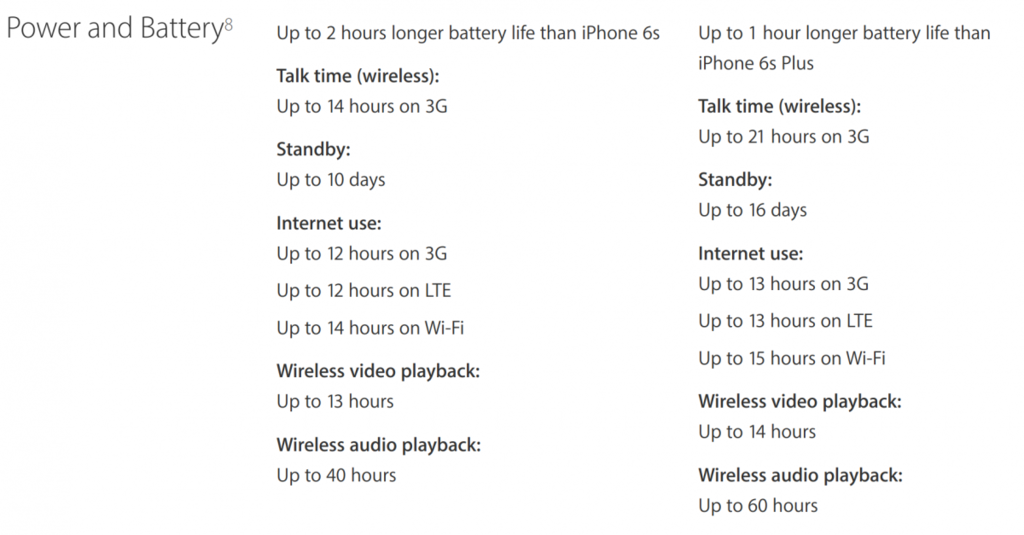 Even if Apple claims that iPhone 7 and iPhone 7 Plus have longer lasting batteries, iPhone 7 offers only two additional hours of usage compared to iPhone 6s while iPhone 7 Plus offers only one additional hour compared to iPhone 6s Plus.
I am sure most of the customers were waiting for improvements on battery because it causes a major problem is you are an active iPhone user but Apple doesn't seem to meet the expectations in terms of battery improvement.
4. Speakers
Both iPhone 7 and iPhone 7 Plus have stereo speakers for the first time and it enables much more loud with extreme audio quality. Everybody seem to criticize new iPhones EarPods feature but you may able to use old headphones with your new iPhone using headphone jack adaptor which comes bundled in the box. However, Apple thinks you should definitely use new EarPods and they claim it is loud enough to be an external speaker.
5. New iPhone Colors

There were 4 iPhone 6s color options; silver, gold, space gray and rose gold. New iPhones, on the other hand, have 5 color options; rose gold, gold, silver, black and jet black. Most people seem to be confused about jet black option, Apple has an explanation on their official website about this new color: "The high-gloss finish of the jet black iPhone 7 is achieved through a precision nine-step anodization and polishing process. Its surface is equally as hard as other anodized Apple products; however, its high shine may show fine micro-abrasions with use. If you are concerned about this, we suggest you use one of the many cases available to protect your iPhone." It is just darker and shinier than black option but if I want my iPhone shiny, why would I use a case, right?
6. Performance

Even if your Android device operates very fast at the beginning, there is no doubt it will slow after a while. Do you think iPhone 6s and iPhone 6s Plus were the fastest smartphones? Maybe they were but not anymore. These new iPhones have a new processor called "A10 Fusion" which is 40% faster than A9 chip in the iPhone 6s and 6s Plus.
7. Storage And Price
First, Apple removed 8GB option and now there is no 16GB option for the new iPhones. But how does it affect the prices? iPhone 6s 32GB is currently $549 while iPhone 7 32GB is $649. When you think of updates and all of the changes, paying $100 more to have iPhone 7 may seem logical but I am still thinking about battery life and only additional 2 hours will not be enough to use all of the features of new iPhones but I certainly love IP67 dust and water resistance. Water resistance allows submersion up to 1m for 30 minutes. I wasn't expecting to capture underwater photos but when you think that dust is the biggest enemy of electronic devices, it is good to have something dust and waterproof.
iPhone 7 – 32GB ($649), 128GB ($749), 256GB ($849)
iPhone 7 Plus – 32GB ($769), 128GB ($869), 256GB ($969)